This additional material has been made possible by the photographs and information
supplied by Lillian Cree (nee Black) who kindly sent them to me from her private
collection. Lillian is resident in Canada and can be contacted through me by E-Mail.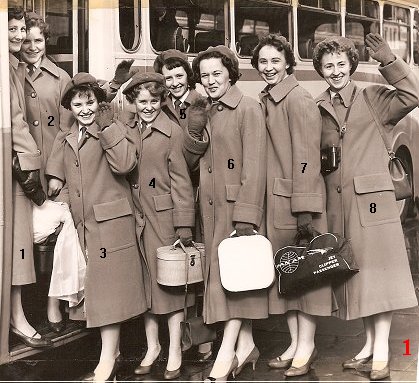 A group of girls boarding the coach in Glengall Street on route to Nutts Corner Airport for their flight to New York. From right to left: Adeline Johnston, Ina Clark, Hazel McClenaghan, Lillian Black, unknown,
Marilyn Murdoch, Margaret McKnight, unknown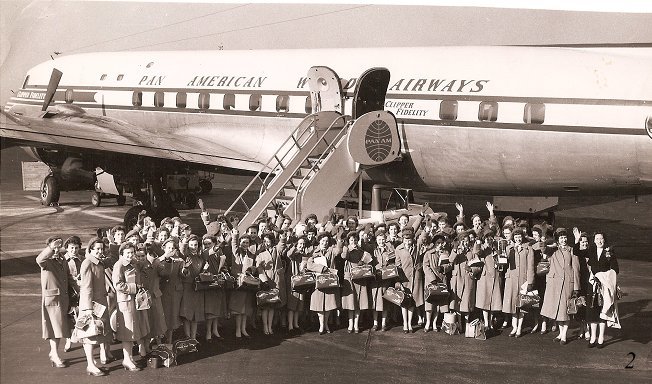 The Ladies of the Ulster Girl's Choir ready to board their chartered aircraft to take them
to Canada. It illustrates the quality of their organisational ability, chartering an
aircraft was unheard of in those days, but look at the attention to detail in the uniform
way the ladies are dressed.
Pan American World Airways 'Clipper Fidelity' Douglas DC-6B 1952. Registration No N6529C,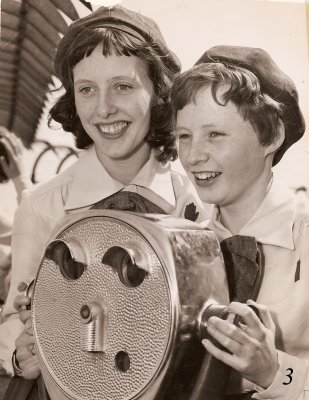 Lillian Black and Hazel Wilson looking out over
New York City from the top of the
Empire State Building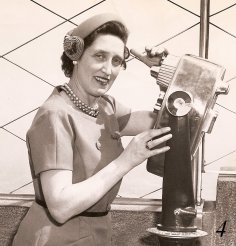 Picture #4. Miss Brown Empire State Building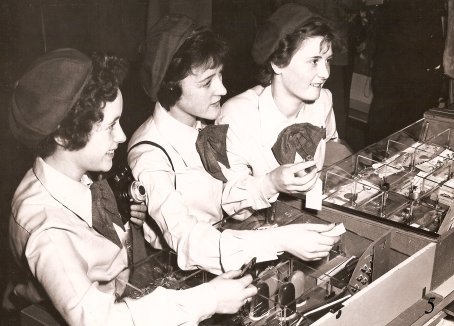 Picture #5 Amy Deane, Doreen Barclay and Margaret ????
buying souvenirs at the top of the Empire State Building in New York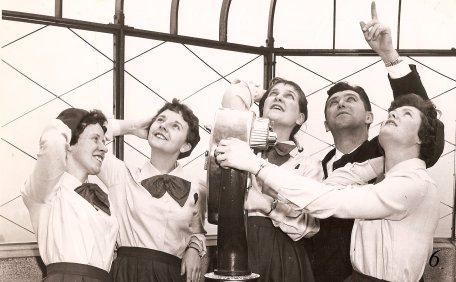 Picture #6 Checking out the top of the Empire State Building in New York
From left to right: Pat Forrester ..................
(not sure but think the next person is Merna Gallagher)
unknown, unknown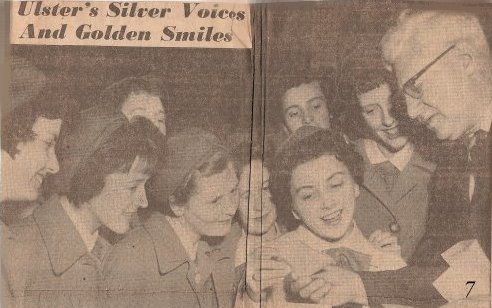 Mayor Nathan Philips finds an audience who are attentive as well as lovely as he shows the Ulster Girl's Choir pictures of his grandchildren at City Hall today.


Irish Airs Bring City Hall to Standstill.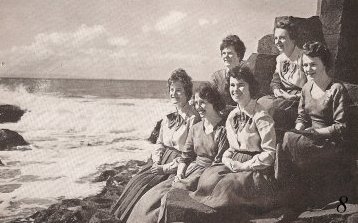 One of the most popular songs in the repertoire of the Choir is
"The Old Wishing Chair."
Written by Elizabeth Quinn
Ulster's Wishing Chair is part of the Gianta Causeway on the North Coast of Antrim. Large numbers of visitors come to this phenomenon of Nature to make wishes - just like the choir members who gaze out over the Atlantic Ocean and wish - perhaps something not unconnected with Canada, Canadians and The Tour.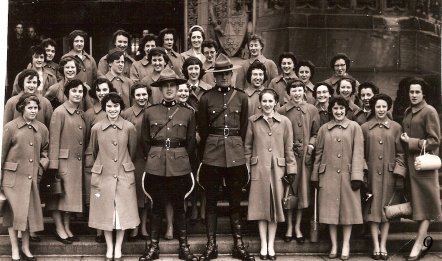 Picture #9 With the Mounties on the steps of the City Hall, Toronto.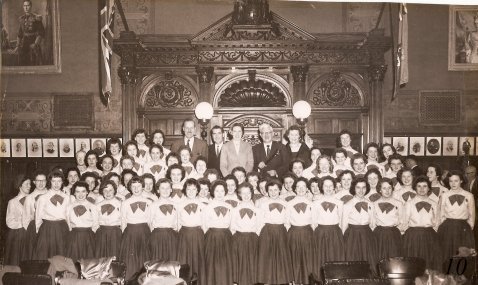 Picture #10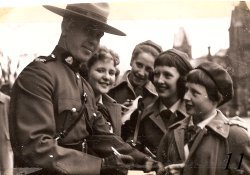 Picture #11 Visiting with a member of the Royal Canadian
Mounted Police Left to right: Elizabeth McCarroll,
Lynda Anderson, Lillian Black, Hazel Wilson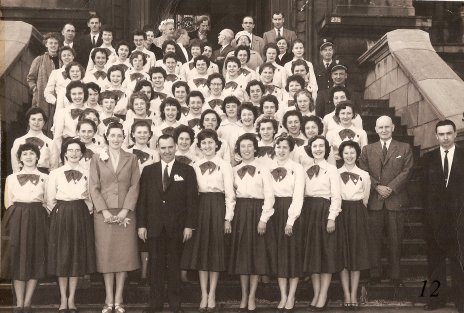 Picture #12 Ulster Girls' Choir on steps of McGill University in Montreal, Canada.
SING A SONG OF SPRING FEVER.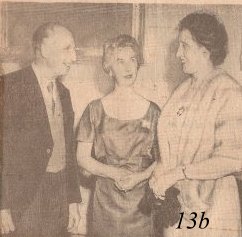 Ontario's Parliament Buildings had a hit on their hands yesterday afternoon. His Honor and Mrs. Mackay chat with Miss Irene Brown, when the touring Ulster Girls' Choir began to sing, that cinched it. Lieutenant-Governor and Mrs. J. Keiller MacKay were entertaining the group's 60 members at a reception - and the group's 60 members ....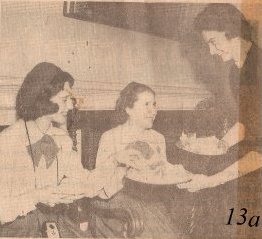 were entertaining them. In the picture Mrs. W. Daberkow sees that Lillian Black and Lynda Anderson are well served with refreshments. It wasn't the kind of day for working anyway.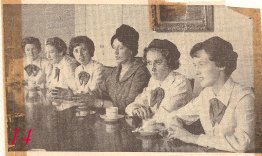 Holland "Dank voor koor" press conference.
From left to right, Maureen O'Hara, Carole Smith, Bertha McGowan,
Miss Browne, Lynda Anderson and Lillian Black.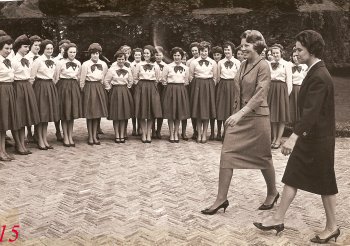 Picture taken in Utricht H.R.H. Princess Beatrix with her aide. Princess Beatrix later
succeeded her Mother Queen Juliana and she is currently Queen Beatrix of the
Netherlands. She entertained the choir to "afternoon tea".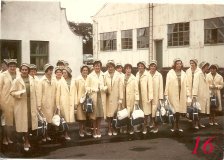 Holland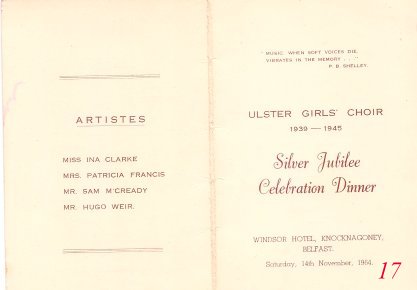 Silver Jubilee Celebration Dinner.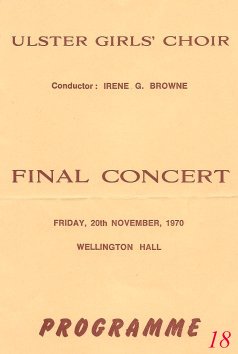 Programme - "Final Concert"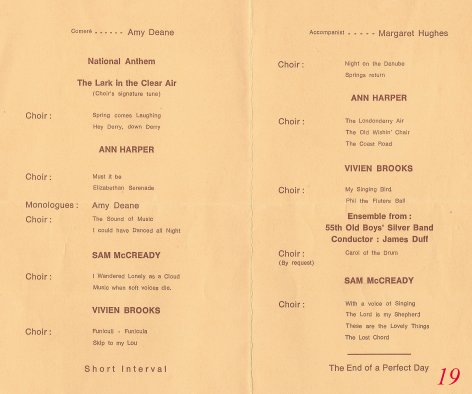 Programme - "Final Concert - 2"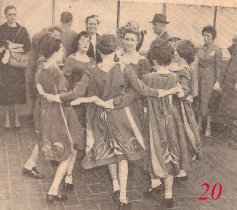 New York Ulster Girl's Choir Members
Do a jig high up in New York.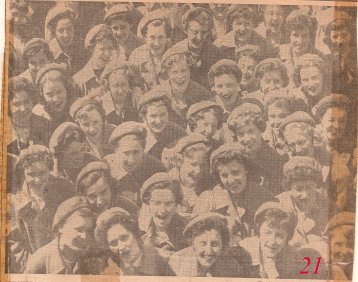 New York Herald Tribune Newspaper
58 Colleens Come to the US to Sing -
Members of the Ulster Girls' Choir on the roof of the
Hotel Woodstock, New York, after their arrival
yesterday from Belfast.